Betsy Ann Riverboat Cruise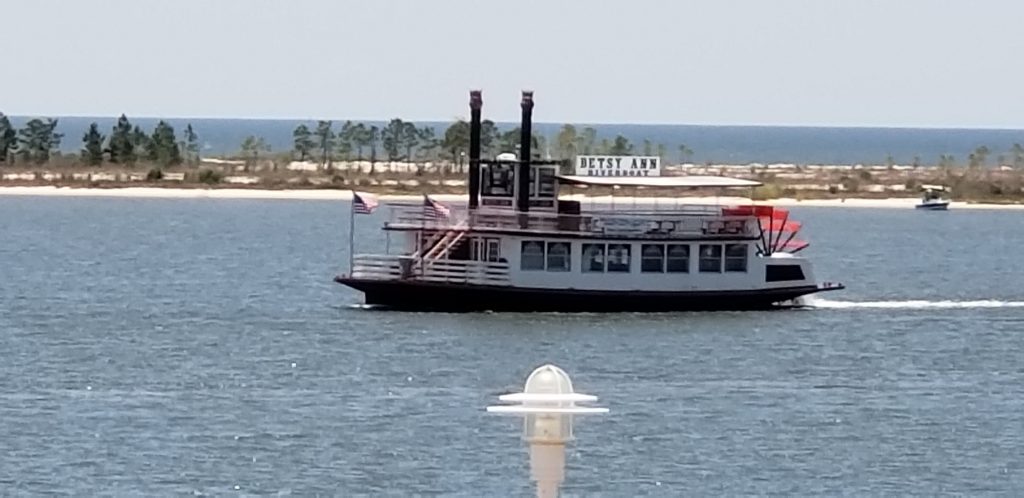 Betsy Ann Riverboat Sunset Cruise 
Thursday, June 14th 6:30-9:00pm 
Overview:
Guest will go for a 2-hour dinner/sunset cruise aboard the Betsy Ann Riverboat in East Biloxi. On this sternwheel paddle boat, guests will enjoy live entertainment with Brennan Roybal  and Ty Taylor, a catered meal, amazing views from either the air conditioned cabin or the open-air top deck, sipping on the beverage of their choice.
We will meet and load at the pier between Margaritaville and Golden Nugget by 6:30pm and will shove off at 7:00pm for a two hour sunset cruise along the coastline.
Visit the Riverboat website Here
Transportation:
You may drive yourself or take advantage of the Coast transit Authority ride being provided. Please arrive no later than 6:30pm so you don't "miss the boat" …LOL
CTA will pick up guests at the Biloxi Visitor Center at 5:45pm, then drive to the Hyatt Place hotel for pick up at 6:00pm. All riders will be delivered to the pier by 6:30pm to load onto the boat and get ready for the trip.
Upon return, CTA will be waiting at 9:00pm to return guests to their respective parking locations. A second trip at 10:00pm will be announced depending on registration for the cruise.
Self drivers should park in the lot between Margaritaville and the Golden Nugget Casino to join us.
Food and Beverage:
A buffet with a variety of food items will be provided during the cruise. Beverages provided on board include water, soda, Seagram's variety and a beer selection.
If you prefer to drink wine or would like to bring liquor, it is BYOB. Tag your bottle and it can be kept at the bar for your use during the trip.
With the exception of a local dark beer, here are the on-board options.

Registration: 
Seating is limited. Please register yourself and any guests no later than Monday, June 11th, to ensure space and that we order plenty of food.
Walk-ons will be allowed the day depending on space. Bring $20 cash to the dock.
Registration for the cruise occurs on the same page as the other event component registrations.