The John Paul Frerer Bicycle Safety Act
Summarized by BikeWallk Mississippi: Find the complete law HERE
Bicyclists: Rights and Responsibilities
Ride Right (and WITH Traffic)
Bicyclists must ride as close as practical to the right hand curb/edge of roadway except when:

Unsafe to do so
When passing another bicycle or vehicle
When preparing for a left turn
When proceeding straight where right turns are permitted and
When necessary to avoid hazardous conditions

No more than 2 abreast:

Bicyclists may not ride more than two abreast except when on roads exclusively for bicycles.

Indicate Turns:

Bicyclists shall indicate right turns, left turns and stops with hand signals before taking action.
Right turn: left arm upward, left arm to square or right arm horizontal to right.
Left turn: Left arm extended horizontally
Stop: left arm or right arm downward.
Motorists: Rights and Responsibilities
Passing:
When passing a bicyclist, motorists shall leave not less than three (3) feet between vehicle and bicycle AND shall maintain three (3) feet minim clearance until safely past the bicycle.
Motorists may pass a bicycle in a non-passing zone ONLY when it is safe to do so.
Motorists passing a bicycle may NOT make a right turn unless turn can be made with reasonable safety.
Anti-Harassment:
It is unlawful to harass, taunt or maliciously throw an object at or in the direction of anyone riding a bicycle. This is a fineable offense of up to $2,500 and 7 days jail time.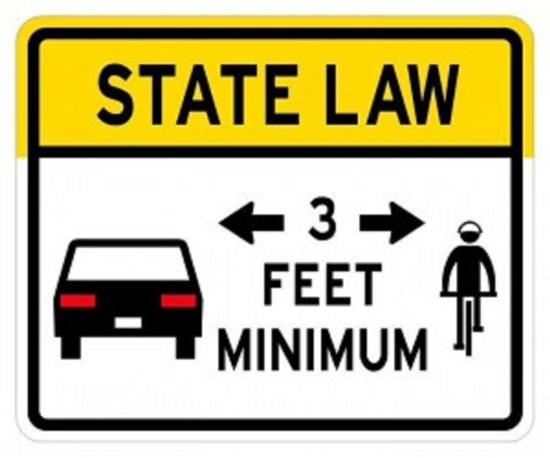 Bike Walk Mississippi announces the launch the state's first BICYCLE FRIENDLY campaign with support from the Foundation for the Mid South, the League of American Bicyclists and the Alliance for Biking and Walking!
Click HERE to participate in or to learn more about the campaign.
When People Ride Bikes, Great Things Happen
Bicycling is great for health, good for communities, and a cost-effective solution to many of our most pressing societal and environmental problems. Here is a taste of what you can find in Bikes Belong's
online, searchable Statistics Library to help you make the case for bicycling in your community.
Bicycling is for everyone
More than 42 million Americans 6 and older—15% of the population—rode a bike for recreation in 2010, making it the second-most-popular outdoor activity in the U.S.
In 2009, Americans made 4 billion trips by bicycle.
47% of Americans say they would like more bike facilities in their communities.
Bicycling is the ideal way to take short trips
Most trips Americans make are short: 50% are less than 3 miles, 40% are less than 2 miles, and 28% are less than 1 mile.
Bicycling can help you live longer and better
Adults who bike to work have better weight, blood pressure, and insulin levels.
Women who bike 30+ minutes a day have a lower risk of breast cancer.
Adolescents who bicycle are 48% less likely to be overweight as adults.
Bicycling boosts the economy
The U.S. bike industry supports 1.1 million jobs and generates $1.8 billion in taxes.
Homes closer to bike paths are more valuable.
Bicycling can reduce obesity and overweight, which cost the U.S. $270 billion per year.
Bicycling is less expensive than driving—for individuals and society
The average American household spends $8,758 per year on car payments and vehicle operating expenses – more than they spend on food.
On a round-trip commute of 10 miles, bicyclists save around $10 daily.
For every two miles that someone bikes instead of drives, they save society $1.
Bicycling reduces road congestion and air pollution
Traffic congestion wastes 4.8 billion hours and 3.9 billion gallons of gas per year in the U.S., costing the country an additional $115 billion.
For every 1 mile pedaled rather than driven, nearly 1 pound of CO² is saved.
Bicycling is safe, and together we can make it safer
The health benefits of bicycling outweigh the risks by a factor of 20:1.
Safety in numbers: the more people who ride, the safer bicycling becomes.

Safe Riding Tips
Before using your bicycle, make sure it is ready to ride. You should always inspect your bike to make sure all parts are secure and working properly.
Click HERE to view and download the NHTSA Poster. The list below is just the highlighted version.
Remember to:
Wear a Properly Fitted Bicycle Helmet.
Adjust Your Bicycle to Fit.
Check Your Equipment.
See and Be Seen.
Control Your Bicycle.
Watch for and Avoid Road Hazards.
Avoid Riding at Night.
Many bicycle-related crashes resulting in injury or death are associated with the bicyclist's behavior, including such things as not wearing a bicycle helmet, riding into a street without stopping, turning left or swerving into traffic that is coming from behind, running a stop sign, and riding the wrong way in traffic. To maximize your safety, always wear a helmet AND follow the rules of the road.
Rules of the Road
Bicycles in many States are considered vehicles, and cyclists have the same rights and the same responsibilities to follow the rules of the road as motorists. When riding, always:
Go With the Traffic Flow.
Obey All Traffic Laws.
Yield to Traffic When Appropriate.
Be Predictable.
Stay Alert at All Times.
Look Before Turning.
Watch for Parked Cars.
Sidewalk versus Street Riding
The safest place for bicycle riding is on the street, where bicycles are expected to follow the same rules of the road as motorists and ride in the same direction.
Children less than 10 years old, however, are not mature enough to make the decisions necessary to safely ride in the street so are safer riding on the sidewalk.
For Anyone riding on the sidewalk:
Check the law in your State or jurisdiction to make sure sidewalk riding is allowed.
Watch for vehicles coming out of or turning into driveways.
Stop at corners of sidewalks and streets to look for cars and to make sure the drivers see you before crossing.
Enter a street at a corner and not between parked cars. Alert pedestrians that you are near by saying, "Excuse me," or, "Passing on your left," or use a bell or horn.