Proposed Termination of Route 8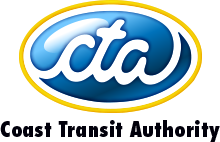 Email your Comments               Route Information              CTA Press Release            Tarjeta de comentarios
PUBLIC NOTICE
Public Comment Period: April 30th – may 30th, 2017
Public Meeting Date: Thursday, May 11th 
from

 4:00-6:00PM
at the D'Iberville Town Green (10004 Central Ave.)
In compliance with federal regulations, Coast Transit Authority (CTA) is seeking the public's input on the proposed termination of  Route #8. This service is about a 2 block loop connecting an employee parking lot, customer parking areas, and the D'Iberville Transit Center to the Scarlet Pearl Casino. The route is losing its funding at the end of May 2017. More information on the proposed change and the associated public meeting can be viewed at www.coasttransit.com. This comment period satisfies the public participation requirements of FTA Section 5307 POP notice, as well as CTA's Title VI and Public participation plans.
Public participation is solicited without regard to race, color, national origin, age, sex, religion, disability, or other protected status. Persons who require assistance under the Americans with Disabilities Act should contact CTA at least five (5) business days prior to any scheduled meeting or event. Submit accommodation requests, your feedback and comments by email to CThopper@coasttransit.com, by phone to 228-896-8080 x234, or to the CTA offices (333 DeBuys Road, Gulfport MS 39501)
NOTICIA PÚBLICA
Período de comentario público: April 30th – May 30th, 2017
Reunion publica: Thursday, May 11th, 2017 (4:00-6:00pm, Estilo abierto) D'Iberville Town Green at 10004 Central Avenue
En cumplimiento con las regulaciones federales, Coast Transit Authority (CTA) Está buscando la opinión del público sobre la propuesta de D'Iberville Route #8 (Scarlet Pearl route). Más información sobre el cambio propuesto y la reunión pública asociada se pueden ver en www.coasttransit.com. Este período de comentarios satisface los requisitos de participación CTA's Title VI & LEP Plan, the MS Gulf Coast MPO's Public Participation Plan and the FTA Section 5307 POP Notice.
La participación pública se solicita sin tener en cuenta la raza, color, origen nacional, edad, religión, discapacidad u otro estatus protegido. Las personas que requieren asistencia Americans With Disabilities Act (ADA)debe comunicarse con CTA por lo menos 5 días hábiles antes del final de un período de comentario programado o la fecha de la reunión. Envíe sus solicitudes de alojamiento, pensamientos y comentarios por correo electrónico a CThopper@coasttransit.com, por teléfono al 228-896-8080 x234, o a las oficinas de CTA en 333 DeBuys Road, Gulfport MS 39501.