 Former Mississippi Governor Says Transportation Bill Needed to Boost Economy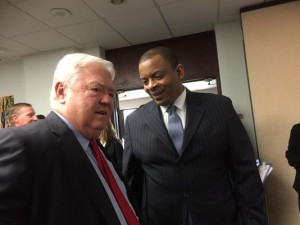 Barbour says highway bill needed to boost economy
WASHINGTON — It's critically important for Congress to pass a long-term highway bill to boost local economies, allow states to plan major infrastructure projects — particularly in the South — and help the U.S. compete globally, former Mississippi Gov. Haley Barbour said Wednesday.
"We should be focused on transportation infrastructure, not just for the construction jobs, but for the economic competitiveness it gives us and all of the jobs that accounts for in the economy," Barbour said. "This is about global competitiveness… A big part of this is about economic growth."
Barbour, former chairman of the Republican National Committee, joined Transportation Secretary Anthony Foxx, a Democrat, and Teamster President James Hoffa at the National Press Club to talk about the nation's infrastructure concerns.
The three called for bipartisan support to pass a long-term highway bill to fund road and bridge construction projects. Congress has been passing short-term bills to keep the Highway Trust Fund solvent because lawmakers can't agree on how to finance a long-term solution.
"We've got to get the politics out of this and realize this is an American problem, not a partisan problem," said Hoffa.
Foxx said Congress has passed 34 short-term extensions for the Highway Trust Fund, including the current three-month extension that expires Oct. 29.
"This is part of what is slowly killing our transportation system," he said.
State and federal officials complain they can't plan major infrastructure projects without the certainty of federal funding.
A National Press Club official said Barbour was asked to participate in Wednesday's forum by the Teamsters, presumably because he "has strong ties with the Republican party" and Mississippi has some of the most serious infrastructure problems in the country.
Mississippi relies heavily on federal funding to repair roads and bridges across the state.
Barbour said it's important for the federal government to spend revenue from taxes and fees on infrastructure projects and not divert it to other uses.
Foxx said most population growth is expected in the South, but the region's infrastructure can't handle the growth.
"The South is not ready for it," said Foxx, former mayor of Charlotte. "That's a real threat, not only in the South, but in the Midwest."
Foxx has visited Mississippi at least twice as transportation secretary. He said last year that deteriorating infrastructure there and elsewhere in the South "breaks my heart."
Contact Deborah Barfield Berry at dberry@gannett.com. Twitter: @dberrygannett.