Red, White & Blue Fundraiser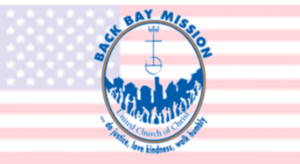 FOR IMMEDIATE RELEASE
Click here for the Red White and Blue Promotional Flyer
Contact: Laura Payne: 228-432-0301: lpayne@thebackbaymission.org
BACK BAY MISSION announces The RED, WHITE and BLUE Fundraiser
Mississippi Gulf Coast– Back Bay Mission is promoting their annual veterans support fund fundraiser; Red, White and Blue Fundraiser. Participating restaurants will donate a percentage of their proceeds Friday, November 6th through Veterans' Day, November 11th.
 The Veterans Support Fund assists veterans and veteran families in need along the Mississippi Gulf Coast. The funds are used from obtaining housing for homeless veterans to emergency services such as utility bills or food. Support for our veterans, community and local businesses can be raised by patronizing the participating establishments.   Below are the participating restaurants:
Anthony's Sports Bar and Grill, Gulfport
Desporte & Sons Seafood Market and Deli, Biloxi
Dickey's Barbecue Pit, D'Iberville and Gulfport
Orchid, Gulfport
Shaggy's Biloxi Beach, Biloxi
Tasty Tails Seafood House, Biloxi
Back Bay Mission meets the urgent needs of those suffering from poverty and its effects while building pathways to social justice.  We lead the way in delivering services, creating collaborative solutions, and transforming lives through mission immersion experiences.  For more information about the Back Bay Mission or the Veterans Support Fund, you can contact Laura Payne of the Back Bay Mission office, lpayne@thebackbaymission.org or 228-432-0301.