Now, as she waited for the Amtrak Inspection Tour to roll into Gulfport, its second stop on a two-day trip designed to gauge interest in restoring Amtrak service along the northern Gulf, she was ready to go again. "I have the Amtrak brochure and it has so many trips," she said. "So many places we can go in the United States as well as Canada."
By the time the train pulled into the Gulfport station 10 minutes later, the Gulfport High School band and cheerleaders had the rest of the crowd just as wound up.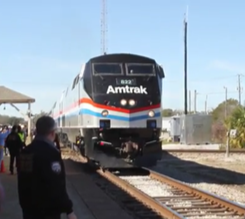 "It's just another piece of the puzzle," Mayor Billy Hewes told the cheering crowd, "of our offerings here, the amenities that we have that make us so rich, with so much opportunity not just here in Gulfport by across the entire Gulf Coast. "Let's have Amtrak be a regular stop along this route."
U.S. Sen. Roger Wicker, who Thursday announced a working group to study ways to get Amtrak back on track along the Coast, said he's been waiting for the train a while, too. "Ever since I was a little boy growing up in Pontotoc, Mississippi," he said. "I wanted to get in a locomotive and drive a train. When this train pulled into Gulfport, I was in that locomotive. I thought I brought it in pretty smooth."
And so it went until Hancock Bank President John Hairston finished up the Gulfport program, saying all the superlatives had been used. The others, he noted, had said it all. "So let me thank the community for showing up," he said. "It shows a lot of community spirit, which is indicative of the types of people who live and reside here." And he finished by leading the cheerleaders in one final cheer."Give me an A," it began. And the crowd obviously knew the rest: M-T-R-A-K.
Read more here: http://www.sunherald.com/news/local/article61102837.html#storylink=cpy