BCBS Funds 'Bike Share' Program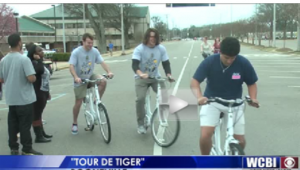 BY ALLIE MARTIN · MARCH 9, 2016
Original article and video here: http://www.wcbi.com/local-news/video-blue-cross-blue-shield-of-mississippi-foundation-funds-bicycle-share-program-at-local-junior-college/ 
BOONEVILLE, MISS. (WCBI) – By his own admission, Braxton Phelps hadn't been on a bicycle in awhile, but it didn't take long for the NEMCC sophomore to get the hang of it.
"Just pick it back up and you just take off," Phelps said.
A grant from the Blue Cross and Blue Shield of Mississippi Foundation provides 20 bicycles throughout the campus. The entire college celebrated the bike share program, with music, food and of course, bicycle rides.
Here's how it works, the bikes are placed at racks. Users can go online to reserve a bike. They get a code, which gives them access to the bicycle. When they are through, they return it to the same rack.
"The program is free for all students faculty and staff, anyone on campus, the program is totally free. It's a great program, really , it's all about getting everyone active here on campus," said Joseph Pennington, director of fitness at NEMCC.
The Blue Cross and Blue Shield of Mississippi Foundation has invested about $300,000  in health and wellness initiatives on the Northeast campus, and it's an investment that pays off for students, faculty and staff.
"This not only helps in insurance premiums, for them, but it creates a tremendous atmosphere here at Northeast," said NEMCC President Ricky Ford.
"It gives the student incentive to actually pick up that bike and go around," said NEMCC Student Elizabeth Schuh.
"Think it was great, I mean it was a good break from the monotony of having to walk everywhere on campus, we had lunch outside, which was a good break,I think a lot of students enjoyed it, plus we got free t shirts," said NEMCC Student Logan Gates.
The Blue Cross and Blue Shield Foundation of Mississippi also funded new exercise equipment in the Burgess Activity Center on campus.