MS road funding fight is intense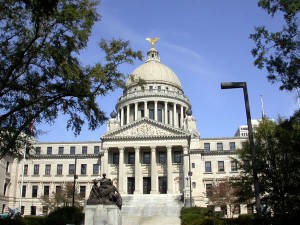 Miss. road funding fight intense
JACKSON — Fights last week in the Mississippi Senate over a transportation spending bill that doesn't actually do anything yet I indicate how intensely people are lobbying for and against more money for roads and bridges.
On one side, the state's business community is pressuring legislative leadership to do something, while on the other side, anti-tax groups are telling conservatives that raising taxes to spend on highways would violate their principles.
The backstage effort features, among other things, an exchange of critical letters between the leader of Mississippi's fledgling Americans for Prosperity chapter and Melinda McGrath, the executive director of the Mississippi Department of Transportation. There are also dueling polls meant to show voters either oppose or tentatively support higher gas taxes for roads.
McGrath has said an additional $526 million a year is needed. MEC has called for another $300 million yearly for state roads and bridges and $75 million combined for cities and counties.
Some of the lobbying effort bobbed above the waterline during the debate over Senate Bill 2921. The bill could eventually be a method to raise taxes or borrow money for roads, but none of that was actually included in the dummy bill that the Senate debated for hours Wednesday.
That bill passed 34-13, but only after the Mississippi Economic Council and others aligned with that chamber of commerce told their supporters to lobby Senators to vote for it.
But that bill could come back with not only money for a road effort, but with Lt. Gov. Reeves' proposed $575 million tax cut, and the normal yearly bonds that universities, community colleges and local communities seek to pay for construction projects.
"The idea is to get one big huge conference report with enough provisions in it so it will pull all of this through on its own," said Sen. Hob Bryan, D-Amory.
Opponents were clearly influenced by an open memo written by Russ Latino, who leads the Mississippi chapter of Americans For Prosperity. That conservative advocacy group supported by billionaire businessmen David and Charles Koch has claimed credit for stopping transportation tax increases elsewhere in the last year.
Latino argues road problems aren't that bad in Mississippi compared to other states; that the Department of Transportation should do more to economize and shift spending to maintenance priorities; that the situation needs study by a "disinterested party;" and that Mississippi should consider transfers from general revenues and decommissioning underused roads.
He also cited a February poll that AFP commissioned showing that 86 percent of respondents oppose a gasoline tax increase and 73 percent would be less likely to vote for a candidate who supported a gas tax increase.
The letter sparked a sharp response from McGrath, who called Latino's claims "propaganda." For example, she disputed Latino's claim that new taxes would cost the typical Mississippi family more than $500 yearly, saying that assumed each family owned four vehicles.
"For the past four years, MDOT has been fighting to address the maintenance needs of existing roadways while putting almost all new construction on hold," she wrote in a March 3 letter. "The situation is dire."
Supporters also point to a poll commissioned by Y'all Politics and Magellan Strategies showing pluralities of Democratic and Republican voters support a tax increase "if this tax was dedicated to only fixing roads and bridges."
It's unclear what the outcome of all the grappling will be. MEC and highway supporters are looking to Reeves to pave the way, but the situation in the House seems even more pothole-riddled than in the Senate.