Mississippi Educates on Work Zone Safety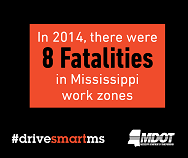 Mississippi drivers urged to use caution in highway work zones
Posted by Maggie Wade, News Anchor
JACKSON, MS (Mississippi News Now) –
The Mississippi Department of Transportation will join local, state and federal transportation officials across the country to observe National Work Zone Awareness Week. It began Monday and is scheduled through Friday. April is also Distracted Driving Awareness Month and Alcohol Awareness Month.
The theme this year, "Don't Be That Driver", which will focus on the important role the driver plays in work zone safety as well as other road safety issues.
MDOT is reminding drivers it is imperative they are acutely alert.  A driver distracted by an activity other than driving, such as using a cell phone or eating, is up to four times more likely to be involved in a crash. MDOT also says recent years have shown an increase in work zone related fatalities and injuries, many of which were a result of distracted driving.
According to MDOT in 2014, there were over 650 work zone fatalities reported nationally, a 13 percent increase from 2013. There was also an increase in work zone injuries due to crashes totaling over 31,000, a nine percent increase from 2013.  Road worker fatalities also saw an increase of nine percent in 2014 totaling 116.  In Mississippi, there were eight fatalities reported in work zones; three of which were highway workers.
MDOT offers the following tips for driving safely in work zones.
Stay alert! Look for reduced speed limits, narrow driving lanes and highway workers.
Pay attention. Work zone signs will tell you exactly what to expect ahead.
Merge early. If drivers merge as soon as they see the signs, traffic will flow more smoothly.
Slow down. If you're speeding, you may encounter slowed or stopped traffic within seconds.
Don't tailgate. Maintain a safe distance on all sides of your vehicle.
Plan ahead. Expect delays and allow extra travel time. Select an alternate route if you are running late.
low down when approaching a work zone at night. Visibility can be difficult due to the glare of oncoming headlights. Slowing down and proceeding with caution will allow for everyone to stay safe.
For more information, visit GoMDOT.com/drivesmartms.
Copyright 2016 MSNewsNow. All rights reserved.