Commute Times Drop in South Mississippi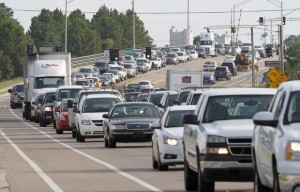 September 22, 2014
This may be hard to believe while sitting in traffic, but Coast residents' work commute is getting shorter. According to the U.S. Census Bureau, drivers in all three of the southernmost counties are spending less time getting to work, with drivers in Hancock County enjoying the biggest reduction. The average commute for Hancock residents dropped by about two minutes when numbers from 2007-09 are compared with figures from 2010-12, the latest year statistics are available.
Drivers in Harrison County went from 22 to 21 minutes over the same time periods, though Jackson Countians hastened their commute by only 10 seconds, to 23 minutes. Understanding this phenomenon doesn't mean understanding red lights or traffic laws. Instead, think hurricanes.
"People are beginning to want to move back to where they are working," said Kenneth Yarrow, senior transportation planner with the Gulf Regional Planning Commission.
The GRPC is the transportation planning organization for those three counties, with responsibility for surveying traffic trends and helping shape policy and future projects. Yarrow said the fear of another Katrina-like storm is subsiding and people are now willing to take the chance of moving closer to where they work. With most employers situated near the Coast, residents uprooted by the storm found themselves with longer commutes, he said.
General Nutrition Center employee Jordan Long, 22, of Gulfport, was recently moved to the store in Biloxi's Edgewater Mall from the Gulfport store, which doubled her time in the car. "Life was so much easier with that extra 10 minutes," she said. "It's every day, and it adds up."
Shawn Mahmood, cashier at Gulf Coast Cards, said he wouldn't even consider a job with a long commute. "Twenty-five to 30 minutes is the absolute max I would drive until I found a new job," he said. What's even better news for Coast drivers is their commute could get shorter yet. Yarrow said the more people move back to the Coast, the more the time will drop until it eventually will plateau. As far as what else can be done, the only factor the counties can control is land use, Yarrow said. "The counties using land to build residential areas closer to employers and vice versa would help drive the time down dramatically."
BY JAMES SKRMETTA Read more here: http://www.sunherald.com/2014/09/21/5813339/commute-times-drop-in-southmississippi.html?sp=/99/184/