Dangerous Jackson County intersection to receive a safety upgrade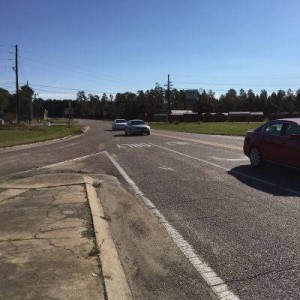 The intersection has been the scene of dozens of accidents over the years. (Photo source: WLOX News)
JACKSON COUNTY, MS (WLOX) – By Doug Walker Nov. 19, 2015
A plan is now in place to make a dangerous intersection in Jackson County safer.
MDOT will soon begin realigning the turning bays and installing a new state of the art radar controlled traffic signalization system at the Highway 63 – Highway 614 interchange.
The intersection has been the scene of dozens of accidents over the years. Stacy Martin knows one of the reasons why.
"There are trucks going real fast going north and south and car pulling out in front of them," Martin said.
Sheriff Mike Ezell agrees that speed is a factor.
"Anytime you have a large amount of people headed north or south on a main highway going to work, they're in a hurry," Ezell said.
You'll get no argument from a group of store neighbors.
"They go too fast going north and south on this road. And they don't slow down enough," said Frank Ingram. "You can look at the skid marks out there and tell."
It's not hard to find people who have been involved in wrecks at the intersection.
"I was on my way to church on a Sunday morning a car came through from Hurley going east to west, went through the signal light and hit my husband and I broadside," Barbara Martin noted.
Just up the road at Amanda's salon Montana Hester reflects back on the recent moment when her day came to a crashing halt.
Hester said, "I was headed home from work on morning and a big truck had stopped at the red light and didn't see me over the hill coming up and pulled right out in front of me and I totaled my car."
Ezell says one of the reasons the intersection has become more dangerous over the past several years is because of Hurricane Katrina, which left people heading toward higher ground; causing more traffic.
"A lot of it has come out of Pascagoula. They are headed up north. You've had the older generation of folks that don't want to go through another storm down here," Ezell noted.
Drivers are hoping the storm of car crashes will also end with the improvements.
MDOT officials say the work will begin soon and be finished by June of 2016. The price tag for the project is $1.1 million.
Copyright 2015 WLOX. All rights reserved.