Secretary Foxx: Mississippi's Road Problems "Break My Heart"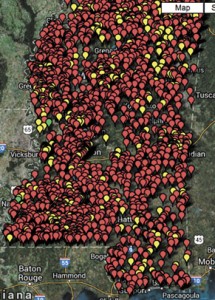 Deborah Barfield Berry – 11:23pm CST November 21, 2014
WASHINGTON Transportation Secretary Anthony Foxx recently recalled that on a visit to Mississippi earlier this year he saw bridges so dilapidated that school bus drivers had to go miles out of their way to drop off students.
"It breaks my heart because places like Mississippi, Alabama that are down there in the Deep South — that you've got good people trying to work hard and do the right thing, and in some cases, they just can't get from A to B," Foxx told USA Today reporters on Wednesday. "That should not be, in the 21st century. We're a better country than that."
Mississippi relies heavily on federal funding to help repair roads, bridges and other infrastructure across the state. Read the complete article here.
Image: Mississippi Business Journal; April 25, 2014, "State ranks 10th nationally in deficient bridges"