Study: Congestion to cost economy $1.4B over Labor Day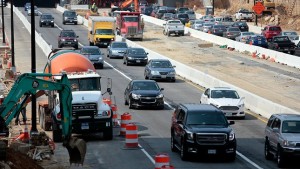 Infrastructure problems in the U.S. will cost the nation's economy $1.4 billion over the normally busy Labor Day travel period, according to a study released on Wednesday by the U.S. Travel Association.
The AAA auto club is predicting that 35.5 million U.S. residents will travel at least 50 miles away from home over the Labor Day holiday weekend, which is defined as the Thursday through Monday surrounding the holiday.
The U.S. Travel Association said on Wednesday that the numbers could be as high as 39 million if Congress had passed a long-term transportation funding measure this summer.
"With AAA projecting that 35.5 million Americans will take to the roads and skies over the holiday, that calculates to $13.5 billion travelers will pour into the U.S. economy—up two percent over 2014," the travel group said in a statement announcing the findings.
"However, U.S. Travel's survey found that hassles caused by failing surface and air travel infrastructure will keep 4.1 million potential travelers at home—costing the economy $1.4 billion in spending," the travel association continued. "And with Congress unable to pass long-term bills on the nation's highways and air travel system—both due this year—the problem will persist and grow worse for Labor Days to come."
AAA said earlier this week that its estimated travel figure is a 1 percent increase over 2014 travel in the Labor Day period. The highway advocacy agency said the anticipated travel for 2015 would be the highest number of Labor Day travelers since 2008 if the prediction is accurate.
The U.S. Travel Association said on Wednesday that its study found 8.7 percent of the predicated Labor Day travelers will take shorter trips and stay in the places they are visiting for fewer days because of problems with the nation's infrastructure.
"Factoring in those shortened trips, the total Labor Day economic cost of hassles due to infrastructure rises to $1.7 billion," the group said.
"The old adage holds true: Americans vote with their pocketbooks—and in this case, they're voting against how Washington has handled our transportation policy," U.S. Travel Association President Roger Dow said in a statement about the study.
"We've seen time and again that travel dollars are among the most economically stimulating, job-creating dollars there are," Dow continued. "The lack of a long-term strategy for our highways and air travel system has created the perception for many that they're better off staying home."
Congress is expected to work on a long-term highway bill when lawmakers return to Washington from the August recess next week.
The current infrastructure funding is set to expire on Oct. 29.
Source: http://thehill.com/policy/transportation/252530-study-infrastructure-problems-to-cost-economy-14b-over-labor-day